Crazy Cauliflower
Yes I just used the words 'crazy' and 'cauliflower' in the same sentence... why I hear you ask, well....
Cauliflower is declining in popularity, which is a shame, because it's a powerhouse of nutrients. It seems to be especially protective against cancer and heart disease, and is packed with vitamins, minerals, and powerful anti-carcinogenic compounds that may actually block tumours.


Eating cauliflower will supply you with vitamins C and B, as well as omega-3 essential fatty acids, which may reduce the risk of strokes and heart attacks, and also may protect against arthritis and rheumatism.

About Cauliflower Cauliflower is a member of the brassica family, like broccoli. The absence of the chlorophyll green pigment is what gives it its white colour It's high in vitamin C (100g of cauliflower provides over 70% of the recommended adult intake!) and is also a good source of vitamin B6 and folate. The origins of cauliflower are unclear, but its use is recorded in Italy and Turkey as long ago as 600 BC (wooooahhh!) It is widely used in Indian cooking and has been used traditionally in the UK for hundreds of years.

Did you know...?
The stinky smell often associated with cauliflower is from the sulphur released during cooking. Want less stink? Cook it less!
How to choose
Choose cauliflower that's still white, rather than browning. If it's going brown, just slice these bits off before using - but it's a sign that you need to use it, fast! The leaves on a cauliflower should be green and not wilting. If the stalks don't "snap" as you remove them, then your cauliflower has been hanging around for a while...

How to store
Store in a paper bag in the fridge for up to a week. In plastic bags, they tend to sweat, which can make the florets go mouldy. Avoid pre-packaged, ready-trimmed and washed cauliflowers. Not only do they have a lower vitamin content, but they've probably been washed in chlorine solutions! Bluueerrggg
How to Use
Break your cauliflower into florets and wash carefully before eating, unless you're partial to a bit of extra caterpillar protein in your dinner! (Non-organic cauliflower is less prone to this).
Cauliflower can be broken into small florets and eaten raw as crudites or in salads.
If you cook it, bear in mind that the sulphur compounds create that infamous "cauli-stink" associated with over-cooked, soggy cauliflower in "institutions"... The longer you cook it, the stinkier it gets!
Traditionally only the white part (called the curd) of the cauliflower is eaten. However, the leaves and stalk can be added to stock, to improve flavour.
One of the BEST cauliflower experiences I had was at a vegan food festival this year.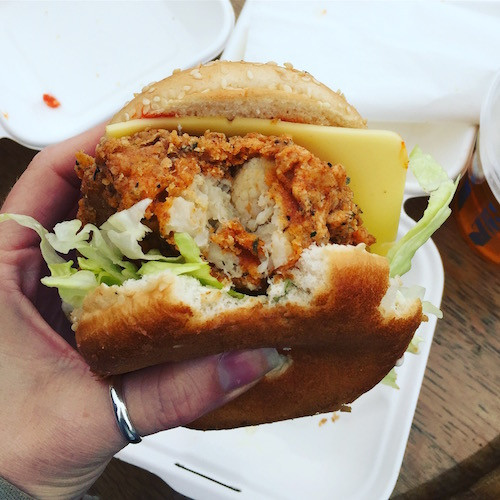 This bad boy had my instagram followers confused...was it a well known chicken type burger?? Nooooo a mouthwatering vegan cauliflower creation! Sadly they wouldn't part with their recipe so here are a few cauliflower friendly ones to get you going.

Cauliflower chickpea Pitta Pockets Serves: 4 Time from cupboard to table: 15minsThis is a lovely way of enjoy cauliflower. The chick peas give the meal a nutty flavour and the watercress means it's packed with nutrients. If you can get hold of tahini (sesame seed butter), it adds to the flavour and is also full of calcium and essential fatty acids.

Ingredients

1 medium cauliflower

200g cooked chickpeas

150ml natural yoghurt

5 spring onions

Small bunch watercress

1 pitta bread per person

2 tablespoons tahini or peanut butter (optional)
Method
Break off the cauliflower florets into thumb-sized chunks. Wash well.
Cook in a small amount of boiling water in a covered pan for 5-8 minutes, until tender. Drain and allow to cool.
Wash and trim the spring onions. Slice finely.
Wash the watercress and drain well. Chop finely.
Mix together the spring onions, watercress and yoghurt. Season with salt and pepper to taste.
Mix together the cooked cauliflower, chickpeas and the dressing, until thoroughly combined.
Optional: Cut each pitta pocket in half and smear one inner side with ¼ of the tahini or peanut butter, if using.
Divide the chickpea and cauliflower mixture even between the pitta pockets. Serve immediately.
Roasted coriander cauliflower Serves 4 as a side dish prep 5mins cook 25mins


Ingredients
1 head cauliflower about 500g cut into florets
2 red onions sliced into thick wedges
1 tsp ground coriander
2 tbsp olive oil
Handful fresh coriander to serve
Method
Heat oven to 220C/fan 200C/gas 7.
In a roasting tin, toss the cauliflower, red onion, ground coriander and olive oil together with some salt and pepper.
Roast for 25 mins, tossing occasionally until the vegetables are starting to brown.
Toss through the coriander and serve.
Cauliflower, fennel & herb risotto Serves 4 ready in 40mins


Ingredients
Butter
1 small onion finely chopped
1 garlic clove finely chopped
½ small head cauliflower roughly chopped
1 bulb fennel halved and shredded
300g arborio rice
1 glass white wine
1litre vegetable stock fresh or cube, kept hot
A small handful flat leaf parsley roughly chopped
Method
Melt a knob of butter in a wide shallow pan then cook the onion and garlic until softened.
Add the cauliflower and fennel and cook for 2-3 minutes.
Add the rice and turn so it gets coated in the butter.
Tip in the wine and stir until absorbed.
Gradually add the stock, stirring until you have a creamy risotto with a little bite.
Stir in the parsley with another knob of butter and season