Eat Real and Conceive - The Course is LIVE

Here are 5 nutrition and lifestyle mistakes that may be reducing your chances of conception and a healthy pregnancy:
When someone who has been struggling to conceive comes to see Liz she always does a full assessment of their health and looks at everything they are eating.She sees some common mistakes that couples are making that once addressed increase their chances of a successful pregnancy. Most of these mistakes are completely unintentional and are only made because the couples have not been told otherwise. It's completely not their fault and it's great to see their commitment to making changes once they know what they are and why they need to make them.
Listed below are some of the mistakes that she sees, all of which can be easily rectified:
You're eating what you always eat: giving life to another human being is the most important thing a person can do and the impact a good diet has on the quality of their life is massive. Good nutrition has a bearing on a person's DNA, their immune response, how well they cope with stress throughout life, their weight and many more things. The changes we make don't just affect our children but also our children's children and maybe even our grandchildren's children and beyond. Making sure both partners are eating a good range of nutrients for at least three months before they try to conceive is paramount in order to ensure the sperm and egg are as healthy as possible and allow the greatest chance of a viable pregnancy.
You're still drinking the odd bit of alcohol: a little bit of what you fancy does you good, right? Wrong I'm afraid. Alcohol increases the risk of deficiency of important pre-conceptual nutrients such as zinc which is vital for sperm production, healthy sperm cells and the formation of female sex hormones; B6, which is also required for female sex hormone production, and particularly folate, which is vital for foetal development. Alcohol also damages the gut wall so raises the risk of malabsorption of certain nutrients, especially B vitamins such as B12 and folate, as when the gut wall is damaged digestive enzymes are depleted and absorption of nutrients is reduced.What's more, alcohol reduces the liver's efficiency at activating vitamin D, and vitamin D plays a vital role in hormone production for both men and women, embryo implantation and modulating the immune system so it doesn't attack the foetus
You don't realise the impact that stress may be having on you: stress can profoundly impact all aspects of our health. It increases inflammation, reduces the health of our gut, depletes the immune system, contributes to blood sugar imbalance and affects our sex hormone balance. It's understandable that you will be feeling stressed right now, due to the difficulties you are facing conceiving, and it's hard to stop feeling stressed but it could be stopping you getting pregnant. When we're stressed, our stress hormones take precedent over our sex hormones and Liz has seen so many people who have struggled to get pregnant or have sex hormone imbalance conditions due to previous long-term stress. Finding ways to combat this stress through relaxation and exercise and also taking in the right nutrients to support stress hormone production will really help to rebalance all of your hormones and increase your chances of conceiving
Your reproductive health is being affected by what's around you: we are being bombarded by chemicals and pollutants every day through our food, personal hygiene products, cleaning products, the air we breathe and the water we drink. Research has shown that this is having a huge impact on our reproductive health, both for women and men with only 1 in 4 men now having optimal semen quality due to the hormone disrupting nature of these toxins.Very few people understand exactly where these toxins can be found, how to remove them, how to protect themselves against them by optimising barriers such as the gut and liver and being able to detoxify safely and efficiently. The difference it can make once all of these things have been addressed can really boost chances of conception and a healthy pregnancy
You're not aware of underlying factors that may be impacting your fertility: trying to conceive is so much more complex than being a healthy weight and taking a pre-conception multi. As you read yesterday, there can be underlying factors affecting our fertility such as chronic viral infections and autoimmune conditions such as Coeliac disease so don't disregard infections you had in the past, current inflammatory conditions, even if they're really mild, past bouts of food poisoning or even issues in your family history. They can all be relevant and be impacting your overall health and therefore contributing to fertility problems.
But the great news is that you don't have to keep making these mistakes, there is a way to turn things around and get yourself in the best possible shape to have a baby. No matter what the barriers are, whether that's a hormone imbalance such as endometriosis or PCOS, or being the wrong weight, she can help. She has helped lots of other women conceive and she knows she can help you too.
Liz is really excited to tell you about the launch of her brand new nutrition and fertility course to help other women and couples make nutrition and lifestyle changes which will support their journey to conceive and have a healthy pregnancy.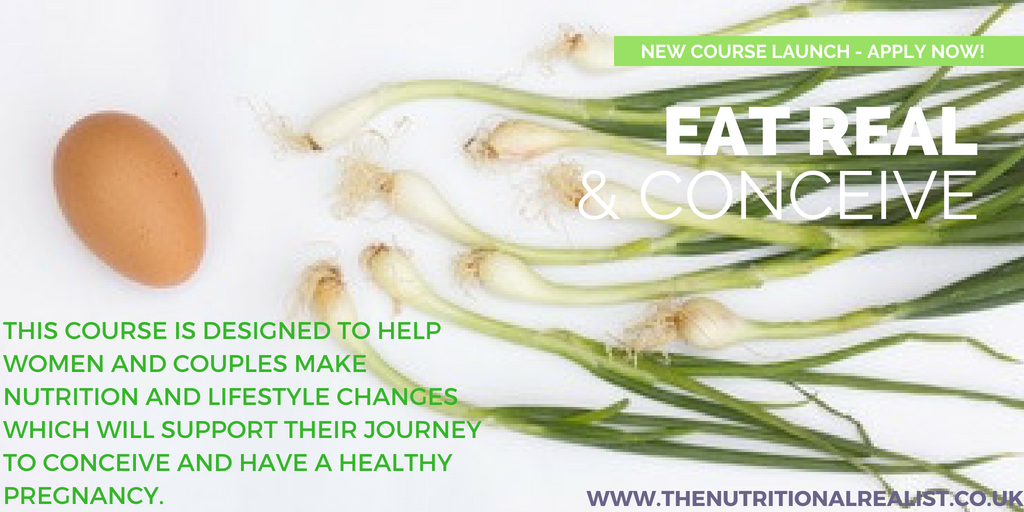 The course will be offered on Not Just Nutrition Courses, which enables you to log on whenever and wherever you want and do the course at your own pace. Each module will be split into lectures with downloads, slides and interactive tasks. Liz finds that many of her clients who are having difficulties conceiving have little knowledge of what may be underlying these difficulties so she thinks it's really important that you have a thorough understanding of everything that may be impacting on your fertility.
Therefore this course will tell you all about:
Female sex hormones and their role in fertility
Male sex hormones and their role in fertility
Why you may not be ovulating
The underlying causes of conditions such as endometriosis and Polycystic Ovarian Syndrome
What can go wrong with male fertility and why
EXACTLY why stress can be detrimental to fertility
Immune related fertility issues
Why your weight can have an impact on your fertility
So at the end of module 1 you'll have a much better understanding of why you're struggling to conceive.
But there's no point having an understanding of what may be going wrong if there's nothing you can do about it so in module 2 you'll learn all about the key nutrients for fertility, for both women and men; what may stop you absorbing and using these nutrients effectively and what else you can do to improve your nutritional intake and support fertility.
In module 3 and 4 Food Liz will show you exactly HOW to implement recommended diet and lifestyle changes with food mind setting and goals, menu planning, where, when and how to shop, and food organisation tips.
Finally, in module 5 you will find lots of meal ideas and some handy lifestyle tips to enable you to make positive changes right away!
Liz may be biased but she thinks this course is fantastic and can be used either on its own or as an adjunct to IVF, if you're planning to go down that route. However, as has been proven by Sarah and Jane's stories, often just changing your diet and lifestyle is all you need to conceive successfully.
So wait no longer, click on the link below and get access to this brand new course. Liz can't wait to help you make your dream come true!